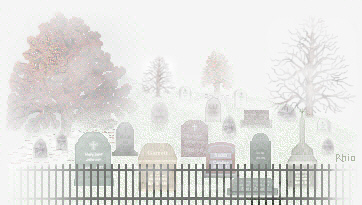 TAYLOR CEMETERY

Transcribed in 1969 by Jack & Colleen Belk (both deceased).
Location; Twp 28 Rge 29 Sec 27 – on Ivy Lane between 1st & 2nd
County Rds in the old Blake Community.
Names & Dates (more or less an index) only as this is copyrighted
1972. For those who can't get to this area, here's hoping this'll
help a little. Some of the names have additional info listed, but
not all. If you'd like to check on a particular surname, simply email
me and I'll check on it for you.

A
ADAMS, James A – b & d 1900
B
BLAKE, Asbury – 5/11/1911
Minerva A – 5/8/1902
C
CAMPBELL, George W – 6/28/1824 – 5/23/1895
Sarah A – 12/12/1831 – 7/21/1913
CHANDLER, Homer E – 1903-1964
Marie N – 1907-no date
CHORUM Ermyel L – 1914-1915
Rollen L – b & d 1912
CHRISMAN, Sarah – 1837-1901
Hattie Faye – 1913-1916
George L – 1929-1929
Albert Lesley – 1874-1953
A.J. LaVaun – b & d 1920
Ira – 1893-1968
D
DAVIS, Jessie L – 6/5/1877 – 3/30/1912
DUNCAN, Mary A – 1827-1911
William – 1847-1918
Angeline A – 1853-1895
Joseph – 3/2/1896
Solomon F – 1866-1913
E
ELLIS, Sarah E – 3/23/1888
Elijah E – 18?6
F
FISCHER, Bessie D – 1887-1964
G
GILL, L.F. – 1844-1918
Lettie – 1866-1903
GILLASPIE, Matilda – 1829-1890
James A – 1861-1890
Evalener – 1878-1879
Ulysses – 1876-1877
Nathaniel – 1871-1873
H
HACKLER, W Harvey – 1881
Thomas J – 1851-1888
HALL, Anna Spear – 1876-1932
HULETT, J Newton – 1839-1910
J
JONES, M H – 1/16/1848 – 2/18/1913
L
LEHAR, M.L. – 1877-1963
M
McGOWAN, May – 1880-1941
MILLS, Mary A – 1847-1934
MORRISON, Tillie M – 1887-1887
Lula M – 1883-1884
Tennie E – 1881-1883
Florence M – 1894-1896
Roy W – 1891-1903
Mary M – 1856-1938
B. Nelson – 1888-1942
N
NICHOLS, Frank – 1874-1947
P
PATTON, Marie – b & d 1915
PRESTON, George – 1886-1937
PROCTOR, Martha – 1820-1894
Claude – 1883-1884
R
REESE, Mary – no dates
E.H. – no dates
RICE, Elmer – 1898-1890? (should maybe be reversed?)
S
SCOTT, Sarah E – 1840-1908
Samuel – 1840-1919
SHELTON, James – 1862-1882
Minnie M – 1872-1907
G.M. – 1865-1951
SHEPHERD, Cora May – 1880-1911
Opel – 1909-1910
SPEAR, Clyde T – 1911-1903? (should maybe be reversed?)
Della F – 1903-1905
Charles True – 1867-1908
STARR, Calvin V – 1875-1948
STEMMONS, Infant – 1896
Lee M – 1866-1942
Robert – 1894-1957
Ida M (Adams) – 1868-1896
Noel – 1891-1893
William S – 1860-1920
Alma May (Zimmerman) – 1/12/1878 – 8/8/1935
Josephine – 1914-1924
Thomas Lee – 1907-1955
Thomas F – 1872-1930
William H – 5/26/1829 – 8/6/1911
Elizabeth (Hines) – 11/20/1830 – 7/11/1911
SWEET, William A – 1862-1944
Willard – 1895-1930
A.M.S. – 1870-1951
SNIDER, Harriet E – 3/10/1857 – 1/6/1878
Margaret J – 2/29/1860 – 4/11/1878
SWINDLE, N M – 1885-1901
Netie – b & d 1900
Frankey – b & d 1897
T
TAYLOR, Infant son – 1908
Benton G – 1865-no date
Alice (Zimmerman) – 1876-1929
Thomas – 7/10/1871 – 5/4/1909
Sarah H – 11/19/1841 – 3/13/1891
E.R. – 3/13/1840 – 5/30/1880
Jane – 10/22/1813 – 3/27/1877
Helen A – 1897-no date
Emerald H – 1899-no date
M. (Meredith) – 1840-1913
Delia – no dates
Mertie H – 1874-1877
Eldredge – no dates
E.O. – no dates
Samuel J – 12/24/1855 – 2/16/1870
Michael J – 2/12/1810 – 4/19/1875
W
WENDLER, Freda C – 1909-1963
Hilbert H – 1899-no date
F W – 1/24/1835 – 7/17/1891
WERNNER, Gus – 1849-1930
WHISENNAND, J I – 11/7/1862 – 9/13/1888
WHITELEY, Nancy A – 1823-1887
Elder John A – 1818-1887
WINANS, C A – 1834-1903