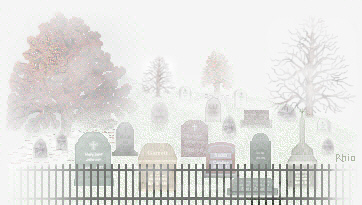 SIZEMORE CEMETERY, Adonijah, Clay County, West Virginia

Contributed by Neva Stout Bryant nevajb@aol.com
(copyright permission received from Neva, 3/18/2002)
Recorded October 1998 by Neva Jane STOUT BRYANT; Copyright
Neva Jane STOUT BRYANT 2001 (this information may be used
for personal research but may not be copied to be sold or
used in any commercial venture)

Description: The cemetery consists of 3 acres of land, approx-
imately 1/4 of which has been cleared and is in use. No cemetery
records exist. No one is in charge of the cemetery, so no records
exist and there is no sexton.
I recorded the cemetery as follows: beginning at the left front
and recording a row, then coming back to begin at the 2nd row at
the front, and continuing in that manner until completed.
Location: From State Route 16 turn left up Independence Hill
(secondary road 10 - a narrow, paved road). Drive approximately
2.5 miles, take right fork then take another right past the Laurel
Fork Baptist Church and parking lot. Go approximately .01 miles
to fork (Old Sheridan SIZEMORE residence); take the right fork
and go .6 miles, keeping on the right road. Go another .1 mile
and turn right; cemetery is straight ahead. A 4-wheel drive vehicle
is recommended for the remainder of the trip past the Old Sheridan
SIZEMORE residence.

Chilton Holcomb
June 25 1911 - December 1981
Myrtle Lucille Holcomb
July 4 1930 - April 28 1972
Lillie N. Fitzwater
1871 - 1953
Barbara Pritt
Daughter of Mr. and Mrs. Raymond Pritt
No birth and death dates (metal funeral home marker)
Lorena Pritt
Daughter of Mrs. And Mrs. Raymond Pritt
No birth and death dates (metal funeral home marker)
Lloyd Holcomb
1930 - 1987
William F. Holcomb
Father At Rest
1881 - 1963
Bert Holcomb
July 29 1915 - November 17 1959
Virgie Holcomb
Mother At Rest
1891 - 1931
Martha H. Holcomb
1921 - 1923 (homemade flat marker)
Beulah Holcomb
1910 - 1918 (homemake flat marker)
1 Unmarked Grave
Mark Weldon Sizemore
March 27 1915 - January 31, 1998 (Carl Wilson Funeral Home Marker)
[middle name is misspelled "Weldod"]
There is also a military flat marker for Mark. It reads:
Sizemore,Mark W.
World War II - US Army
Mar 27 1915-Jan 31 1998 Mar 27
Nelson Henderson Graham
October 22 1962
Age 0 yrs. 0 mos. 0 days (Clay Funeral Home metal marker)
James Anthony Hickman
1970 - 1989 (Combs Pennington Funeral Home metal marker)
Ruby Hickman
1963 (Combs Funeral Home metal marker)
Franklin Lee Sizemore
No birth or death date (Combs Brothers Funeral Home metal marker)
Mable H. Sizemore
1923 - 1923 (funeral home metal marker)
1 unmarked grave
1 unmarked grave
1 unreadable fieldstone-marked grave
Ollia Sizemore
1907 - 1908 (metal funeral home marker)
Double stone: Matilda Lee Sizemore
Sept. 9, 1877 - July 31, 1970
William Sheridan Sizemore
Nov 5, 1876 - Apr. 3, 1960 (he also has a very small square
concrete homemade marker)
Jesse Sizemore
1843 - 1927 (metal funeral home marker)
Nancy J. Sizemore
1845 - 1928 (metal funeral home marker)
Lydia Morris
1869 - 1951 (metal funeral home marker)
Velma Sizemore
1896 - 1900 (metal funeral home marker)
Jennings Sizemore
1898 - 1900 (metal funeral home marker)
Hattie Sizemore
1905 - 1908 (metal funeral home marker)
Military marker: George E. Richards
US Army WW I
May 21 1891 - Nov 26 1982
1 unreadable fieldstone-marked grave
Double stone:
Samuel H. Moore
Sept. 24, 1889 - Dec. 15, 1967
Alma A. Moore
Jan. 1, 1901 - May 10, 1993
Samuel also has a military marker:
Samuel H. Moore
West Virginia
PVT 6 CO 154 DEPOT BRIG
WW I
Sept 24 1889 - Dec 15 1967
Clonnie E. Richards
1924 - 1988
Double stone: George E. Darnell
5-21-1891 - 11-26-1982
Mary M. Darnell
3-24-2901 - No death date
Married 9-18-1919
1 unmarked grave
1 unmarked grave
1 unmarked grave
Garnet Holcomb
Borned 3 1944 Died 5 1944 (homemade marker)
Infant Morton
1963 (metal funeral home marker) [belonged to Magdalene MORTON]
Parris S. Coleman
1945 - 1998 (Pennington Funeral Home metal marker)