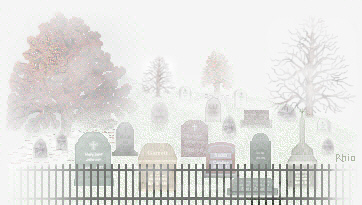 Gibson Cemetary

Transcribed in 1971 by Jack & Colleen Belk (both deceased).
Location; Twp 28N Rge 32W Sec 24 – on Co. Rd 17B, south of
Hwy HH, on east side, about100 feet off the road
Names & Dates (more or less an index) only as this is copyrighted
1972. For those who can't get to this area, here's hoping this'll
help a little. Some of the names have additional info listed, but
not all. If you'd like to check on a particular surname, simply email
me and I'll check on it for you.

CARTER, Selathiel Elmore – 6/16/1855 – 11/26/1941
Josie – 8/25/1882 – 10/8/1911
Mahala E – 7/24/1854 – 10/31/1916
GIBSON, Isaac N – 10/19/1847 – 1/29/1881
Rebecca A – 3/2/1841 – 10/21/1871
Jane – 10/28/1817 – 6/19/1894
John W – 11/24/1815 – 2/13/1869
Wesley – 9/17/1836 – 5/15/1863
John W – 2/25/1843 – 7/27/1875
Benjamin F – 8/23/1838 – 12/2/1861
Terry W – 1/21/1850 – 3/27/1871
Louisa J – 10/27/1871 – 9/27/1873
Infant – stillborn – 5/16/1851
Mary A – 12/16/1856 – 8/17/1857
Eliza M – 7/21/1852 – 10/11/1856
JOHNSON, Sarah E – 5/18/1859 – 6/22/1944
William S – 3/12/1852 – 2/6/1905
Bertha – 12/23/1898 – 11/9/1900
Martha F – 9/21/1881 – 9/4/1887
Mary M – 8/9/1887 – 8/18/1895